An Extraordinary
Summer Arts Program
for Children!
* Gambit's 2019 Best of New Orleans Recipient – Best Summer Camp *
"Art is not a thing, it is a way…"
-Elbert Hubbart

CDCA 2021 is FULL
Please complete the registration if you would like to be placed on the waitlist.
March 24, 2021
Dear CDCA 2021 Families,
CDCA 2021 will be adhering to all CDC COVID-19 guidelines throughout the program. Our planning has also been guided by the American Camp Nurses Association. Currently we are planning to use NPIs (Non-Pharmaceutical Interventions) such as temperature check and asking several health questions upon arrival, mask wearing (for all staff and young artists), social distancing, frequent hand washing, touch free hand sanitizing stations around CDCA, and frequent wiping down of shared surfaces.
Metairie Park Country Day School has been in full session since August 2020. We have been working closely with Children's Hospital to ensure a safe environment for all. We have learned that protocols work if they are followed. One of the most successful measures of keeping our children safe at the younger level is to keep them in cohorts. CDCA will model that practice. The young artists will be with the same group for the entire day.
In May, we will mail out packets that have 25 different schedules- 13 for our younger kids and 12 for our older ones including an exciting addition of two classes that will be just for 13 & 14 year-olds.  Young artists will have the opportunity to choose their top three schedules that they want to take over the summer. If your child has a special request such as wanting to be with a friend or to be in the band, etc  – there will be a space to make a note of that.
All of our staff will be vaccinated.  We will limit young artist interactions at picnic lunch when masks are off. There will be specific eating areas for specific groups. After care will be organized in the same groups as picnic lunch (comprised of the same cohorts). CDC quarantine protocol will be followed, if necessary. We also have a licensed nurse and social worker on campus all day, every day.
We have benefited greatly by witnessing the 2020-2021 Country Day school year and will continue to study best practices and trends as we move forward. We believe that kids need camp more than ever this summer and we plan on having an exceptional and joyful art making experience!
Susan Gisleson
Director, Country Day Creative Arts
January 4, 2021
Dear CDCA Families,
We are definitely living in interesting times. Our number one priority is and has always been the safety of our young artists. This summer we will be compliant with CDC guidelines and use lessons we have learned from the 2020-2021 school year. The situation is always changing and we cannot predict what the summer will bring. However, we can be prepared for what we know now.
We are looking forward to another extraordinary summer at CDCA – we hope you will join us!
CDC Safety Protocol:
MASKS: Every senior staff, intern, young artist and administrators will be required to wear masks throughout the day. There will be regular, outdoor, mask breaks for our young artists.
HANDWASHING: We will emphasize regular handwashing throughout the day. There will be multiple outdoor sinks in the courtyard.
HANDS FREE HAND SANITIZING STATIONS will be utilized on campus.
FREQUENTLY WASH SURFACES AND MATERIALS: Surfaces will be wiped down between classes and art materials will be kept separate when appropriate.
CDCA 2021 changes:
New Hours: Monday-Friday 8:30-3:00 pm. There will no longer be an early dismissal on Fridays.
Before Care will not be offered this year.
After Care will be offered from 3:00-5:30 every day. In order to maintain required safety protocols, we will not be allowing After care drop-ins.  Pre-registration is required.
No guests will be allowed for summer 2021.
Festival will be on the last day of the program, July 16th. It will be during the day for young artists only.
I believe art is a human need and that it is important to teach our children well especially during difficult times.
Looking forward,
Susan Gisleson 
Director, Country Day Creative Arts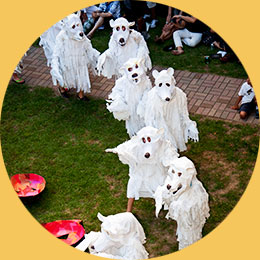 Visual, Performing Arts, and Sports
Ages 7 (and entering 2nd grade) through 14
"From my experience, this is the best summer program for children in the USA.  The level of care, engagement, and inspiration is a gift to everyone involved."
-Theresa Linnihan – 2016 Artist Teacher from Minneapolis, MN.  
"I watched both of my children flourish at CDCA — gaining independence, making a diverse group of friends, and developing new skills and interests along the way!"
-Zoe Larned Sonnier – Mother of two 2016 CDCA Participants
Introduction to CDCA
Click play on the video below for an intro to CDCA
On June 14, what is now the campus of Metairie Park Country Day School will be transformed into something unique & magical.
Professional artists from New Orleans and around the country will come together to create an environment that is like no other.
What links these diverse people is a deep belief in the power of art to transform children's lives.  Read more about our program.
Summer art classes were offered in these areas and more in 2019:
Drawing / Painting
Clay Sculpture
Comics
Mixed Media
Book-Making
* Mosaics
* Photography
Fiber Art
* Woodworking
Big Installation Art
Stop Motion Animation
* Media Arts
Robotics
Computer Art
Costume-Making
Graphic Design
Puppetry & * Stilt Walking
Music
Radio CDCA
Singing
Acting
Video
* Electronic Art
Musical Instrument Making
Instrumental Music
* Musical Theater
Film Sound Effects
Sign Language
Creative Writing
Cooking
Horticulture
Dance
Juggling Arts, Circus Arts
Yoga
Capoeira – Brazilian Martial Arts
Swimming
Fencing
Gymnastics
Team Games
Classes marked with a star (*) were offered to older ages.